What you can do
Condor Watch: The California condor is a critically endangered species and the population is suffering from the effects of lead poisoning. By tracking the location and social behavior of the animals we can better detect early warning signs of the illness.
ACTION: Go to CondorWatch.org. Here you will find a citizen science project where volunteers can review online photographs of condors to help detect behavioral issues. You will look at photographs of condors taken by at feeding sites by motion-activated cameras. Using the online system to record the tag number of condor's seen in the images, your input will help biologists judge if specific birds exhibit eating or social problems. Behavior issues can reveal injuries or lead poisoning.
Volunteer to monitor condor nests: The Santa Barbara Zoo partners with the US Fish & Wildlife Service to enable voluteers in monitoring of California condor nest in the wild.
ACTION: Join athe nest monitoring program
Spread the word: The number one challenge to the recovery of the California condor is lead ammunition. Condors and other birds scavenge on animal remains left in the field by hunters. If the animal was shot with a lead bullet, fragments of lead will occur in the carcass.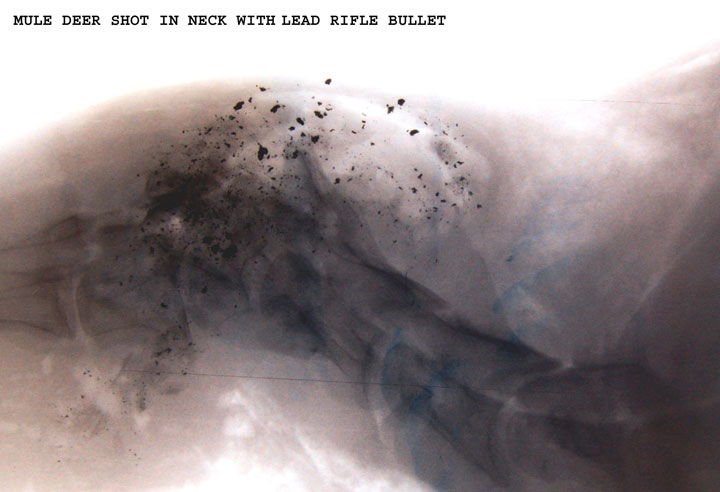 Alternative ammunition is now widely available in most calibers and aware hunters have embraced the opportunity to be a part of the solution that the non-lead bullet provides. Speaking up and driving awareness of this issue in your community can go a long way towards saving the lives of countless scavengers including our national symbol, the bald eagle. Below are some resources to help spread the word.
Understand how lead impacts the condor:
Andy McBride, who is both a gun hunter as well as master-class falconer, Vickie Joseph, DVM of the California Foundation for Birds of Prey and Omar Cabrera, DVM explain the pathway of exposure and the effects lead exposure in birds of prey.
Lead Exposure and Birds of Prey - CA Foundation For Birds of Prey.
Understand how lead impacts the condor:
Bruce Rideout, Ph.D. DVM, Zoological Society of San Diego on Lead Exposure in the California Condor




Hunting With Non-Lead
A valuable website with a rich tapestry of information on hunting with non-lead ammunition: www.huntingwithnonlead.org
Alternatives to lead Ammunition Information Poster - PDF
Hazards of Lead Ammunition Information Poster - PDF
The Non-Lead Hunter - A 24 Min. Hunter Outreach Film
The Non-Lead Hunter from Anthony Prieto on Vimeo.
Limited quantities of The Non-Lead Hunter is available on DVD. The DVD contains both English and dubbed Spanish version of the film. Please send us a note with your mailing address if you would like to recieve a copy.
Research Articles
Collection of literature related to lead exposure in wildlife - Online Link
Impact of the California Lead Ammunition Ban on Reducing Lead Exposure in Golden Eagles and Turkey Vultures - Online link
Condor Recovery Programs
The very first endangered species recovery effort commenced after the passage of the ESA of 1973, the California Condor Recovery Program has enjoyed contributions from a broad range of organizations. Below are links to the conservation programs working on behalf of the condor today. Many of these offer volunteer opportunities and ways that you can participate in a meaningful way.
Condor Reintroduction Sites
Hopper Mountain National Wildlife Refuge, Ventura County
(Closed to the public but offers tours on an occassional basis)
Bitter Creek National Wildlife Refuge, Kern County
(Closed to the public but offers tours on an occassional basis)
Vermillion Cliffs, Grand Canyon, Arizona
Sierra San Pedro de Martir National Park, Baja California
Ventana Wilderness Society, Big Sur, California
A great place to see condors predictably along the dramatic Big Sur coast. VWS offers education programs and innovative ways to see and learn about condor recovery.