Past Screening Events
Oregon Zoo & OMSI
When: May 7, 2014
Time: 6:30 - 9:00 PM
Where: Orgeon Museum of Science & Industry
1945 SE Water Ave.
Portland, OR
Tickets: Free public screening
Post-Screening Q & A: Kelli Walker, Condor Keeper, Oregon Zoo, Joseph Brandt, USFWS California Condor Recovery Program & Filmmaker Jeff McLoughlin
Wildlife Society Annual Conference 2013
Milwaukee, WI
When: October 6
Time: 12:30 PM
Where: Lead Toxicity Symposium
Tickets: Open to WS Conference attendees

Wind Wolves Preserve Nature Festival
When: Saturday, April 12, 2014
Time: 7:30 PM
Where: Outside screening - Bring a blanket!
Wind Wolves Preserve
16019 Maricopa Hwy.
Bakersfield, CA 93311
Ph. 661.858.1115
Tickets: Free event registration online
Post-Screening Q & A: Filmmaker Jeff McLoughlin & special guests

Benefit Screening for The Peregrine Fund California Condor Program
When: Saturday, April 19, 2014
Time: 4:00 PM & 7:30 PM
Where:The Egyptian Theatre
700 W. Main St.
Boise, ID 83702
Tickets: Egyptian Theater
Post-Screening Q & A: Joseph Brandt, USFWS California Condor Recovery Program & Filmmaker Jeff McLoughlin

Santa Barbara Audubon Society
When: April 23rd, 2014
Time: 7:30 PM
Where: Farrand Hall, Santa Barbara Museum of Natural History
2559 Puesta del Sol
Santa Barbara, CA 93105
Tickets: Free public screening
Post-Screening Q & A: Joseph Brandt, USFWS California Condor Recovery Program
Kern Audubon
When: Thurs, January 23, 2014
Time: 7:00 PM
Where: Garces High School
2800 Loma Linda Dr.
Bakersfield, CA 93305
Tickets: Free Admission

University of California Santa Barbara
Bren School of Environmental
Science & Management
When: Tuesday, February 25, 2014
Time: 11:30 AM
Where: 2400 Bren Hall
University of California
Santa Barbara, CA 93106
Tickets: Free public screening
Post-Screening Q & A: Joseph Brandt, USFWS California Condor Recovery Program

Wildling Museum
When: March 2nd, 2013
Time: 7PM -
Where: St. Marks Church, Los Olivos, CA. Tickets:
Tickets: Wildling Museum 805-686-8315
Grand Canyon National Park
When: Dec. 1
Time: 7:00 PM
Where: Shrine of the Ages
Shepherdstown, West Virginia
Tickets: Free Admission

Conejo Valley Audubon
When: Dec. 2
Time: 7:30 PM
Where: Western Foundation of Vertebrate Zoology
Camarillo, CA
Tickets: ConejoValleyAudubon.org
Benefit for The California Raptor Center
Affiliated with the UC Davis School of Veterinary Medicine
When: Saturday, September 28, 2013
Time: Reception:4:00 PM Film: 6:00 PM
Where: University of California Davis
Tickets: Online through Eventbrite

Hi Mountain Lookout Open House
When: Saturday, Oct. 5, 2013
Time: All day event with outdoor film screening ~ 7:30
Where: Los Padres National Forest East of San Luis Obispo
Tickets: Open to the Public

Screen The Condor's Shadow in Your Community
Interested in hosting a screening of The Condor's Shadow? We'd like to help make that happen! Community screenings are possible in two ways. If you are an educational or community group the film can be licensed directly for public exhibition through our distributor, Dark Hollow Films. If you'd like to screen the film at a local movie theater or hall check out Tugg.

Create an event on Tugg, invite friends and spread the word!
Tugg allows you to leverage the power of social media to create a screening event without upfront $$. A screening can be a great fundraising tool for your organization and you can feel positive about raising awareness of an important issue for wildlife.
When possible the main characters in The Condor's Shadow and the fillmaker will attend in person or virtually via Skype.
No upfront commitment of funds is required to host a screening. We provide a flyer and promotional help too. Reach out through Tugg or on the form below and let's screen The Condor's Shadow in your community!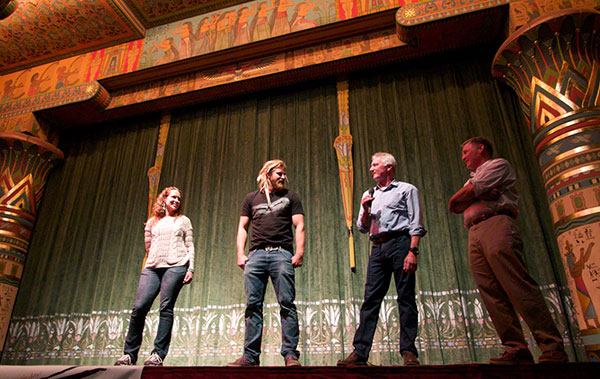 Post-screening Q&A with J.Peter Jenny, President of the Peregrine Fund, filmmaker Jeff McLoughlin (with microphone), Biologist Joseph Brandt and condor breeding specialist Marti Jenkins of the Peregrine Fund.